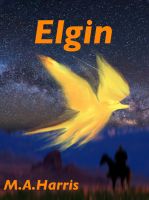 I have always loved Science Fiction, especially the 'Hard' sub genre (think Arthur C. Clark, Larry Niven, etc), as well as military and some adventure.  I've also liked 'Hard' Fantasy and books that in some senses combine SciFi & Fantasy. I started out writing SciFi, relatively old-fashioned Hard SciFi (which I really think should be more common than it is) and semi military SciFi, but I've always played a bit with Fantasy.
And to be honest I find it impossible to write good Fantasy even though some of my favorite authors have easily spanned the gap.  What I ended up writing every time was really SciFi in an Urban Fantasy or Steam Punk setting…and I kind of like the results though Elgin is the first that's been completed.  But this isn't SciFi in the 'Hard' sense, nor is it SteamPunk, RetroPunk, Urban pr Contemporary Fantasy.  It's at an angle to all of those, I like to think of it as a type of SciFi, what I call Quantum Punk or QuantPunk based on the mind (and imagination) bending possibilities our quantum universe opens as a basis for something that is at once Science Fiction and Urban/Contemporary Fantasy.
Let me know what you think….its free try it.
————————————————————————————————————-
Elgin's new life is….complicated.
Elgin's old life was nothing much, Beauty Wyoming was as beautiful and remote as one could get, a town of cowboys and Indians, in a setting of rangeland, mountains and lakes. Elgin Chalmer's was a cowboy and a part breed black-sheep slacker living with his huge Siamese cat Humph in a forty-year old trailer. Life was OK for Elgin, he didn't want much and didn't get any more. Then one raw snowy day he made the mistake of heading into the mountains with a gut full of whiskey and a head muddled by rotten drugs…death came easily considering.
And that was when things started to get really messy. A world of alien dangers and powers were waking up after two thousand years in hibernation and humanity's protector needed a new helper. Now Elgin found himself dealing with flesh-eating lizard girls, ancient spider monsters, along with werewolves and vampires who didn't always play by the rules. And on top of it all he had to get used to eating sharks, raw and still fighting.
But now of course he had a chance to meet up with the cool girls; The Wiccan proprietor of the local New-Age gift shop, with an ancient Indian totem in her basement, the pistol packing deputy with a secret, and the beautiful Russian spy with a heart of gold and the killer instincts of a she wolf.
This book was started as a submission for the National Novel Writing Month or NaNoWriMo, (www.nanowrimo.org) is run by a tiny nonprofit called he Office of Letters and Light, an organization that promotes writing in all its glorious permutations among the young, young at heart, and not so young (among whom I fall in the right hand distribution tail these days.) I wrote the first 60,000 words or so of Elgin in November 2011 and finished the remaining half by February 2012, since then, among many other things, my father and I have been editing so I can submit it for publication at Smashwords, iBooks, B&N, etc.